How to Write a Press Release in 2020 (+7 Press Release Format Examples)
It's no secret that we are more surrounded by news than ever before and that public relations[1] materials are more important than ever.
It's nearly impossible to check your email or scroll through your Facebook feed without being bombarded by the latest articles, covering everything from politics to lifestyle to Elon Musk's latest innovation[2].
And while folks have long claimed that print is a dying industry, it's obvious that news itself isn't going anywhere. In a world that consumes more than any other generation, we have to ask, where is this all coming from?
The latest stories getting blasted to you in an email newsletter or being being littered through your Facebook feed (looking at you, oversharing aunt), just may start from something as simple as a press release.
You read that correctly — press releases remain an invaluable part of a company's integrated marketing communication[3] strategy. As straightforward or formulaic as they may seem, when written thoughtfully, they are ripe with opportunity.
A single, carefully considered document can earn attention from media outlets far and wide. This does more than simply increase exposure to new audiences. It also adds a layer of legitimacy to your brand, increasing credibility in the eyes of your potential customers.
Some brands, in their eagerness to embrace newer digital strategies, have started to overlook press releases, considering them "outdated." This couldn't be further from the truth! Now more than ever, audiences are skeptical and overwhelmed. They're desperate to figure out whomst to trust. Using a press release to align yourself with credible media partners can be the deciding factor that earns their attention.
The thought of putting together a press release sounds easy — but don't be fooled by their perceived simplicity. There are actually a lot of moving pieces and concepts to understand. To get the best results for your efforts, you'll need to understand:
The elements of a press release
The different types of releases (and when to use each)
How to secure placement with influential media outlets
And more!
It may sound like a lot, but the following chapters break down the process step by step. By the time you're done reading, you'll have the skills you need to write your press release, distribute it to the media, and optimize its success. Now, let's get started.
Misconceptions abound regarding exactly what press releases are and how they work. Before we get any further, let's clear up the confusion.
Press Release Definition
Press releases are an integral part of your public relations[5] strategy, but there isn't a one-size-fits-all tactic.
Companies distribute press releases for a variety of reasons – everything from promoting upcoming events and announcing new hires, to celebrating awards and major acquisitions. We'll go in-depth about the different types of press releases in the next chapter.
Although press releases are varied in their purposes, they all share a few key elements:
They're prepared statements
They're meant to pique the interest of journalists and media outlets
They're designed to share a message with the public
With a basic understanding of what press releases can accomplish, we can look at the formal definition.
Press Release [noun]: An official statement released by organizations that reports events, changes in circumstances, or anything else ostensibly newsworthy.
Okay — that may fly as a response on your business school exam, but what does it mean in practical terms?
Press releases enable you to prepare a message once, distribute it, and, hopefully, intrigue journalists enough to cover it publicly. If everything goes well, media outlets do some marketing[6] for you and expose your brand to a wider audience. Distributing press releases regularly keeps your brand in the public eye.
Press releases also help brands boost their credibility. Consumers tend to trust the publications they know and consume regularly, which is why a public relations professional will tell you there's nothing quite like that coveted Forbes or New York Times feature. By having your brand associated with trusted media outlets, it becomes more credible itself.
How Press Releases Work: PR Professionals and the Newswire
So we've covered the basic goal of a press release — but how do press releases achieve their purpose? Who is the mastermind behind a release, and how does it get into the hands of the media?
To understand this, let's get into the gritty details about how press releases work and how they are distributed via the newswires.
How PR Professionals Use Press Releases
Public relations (or "PR") professionals distribute press releases in practically every industry. Working on behalf of the organizations that hire them or as the representative of the companies they work for, these pros leverage their expertise to maximize the publicity of every release.
While it's possible for organizations to approach journalists and media outlets themselves (a tactic most often utilized by small businesses or companies with limited resources), most would feel more comfortable utilizing a PR professional. PR pros have a lot experience knowing which outlets to target for the biggest rewards, and how to best approach them to acquire media coverage.
Additionally, PR professionals have developed relationships with individual journalists in various industries. Many of them pay to access press release distribution services; publishing content there can expose it to a broader audience.
Newswires
Newswires are services that distribute press releases to wide networks of journalists, bloggers, and other members of the media.
While PR professionals contact individual media contacts directly whenever they have a press release that's a great fit, they'll often post on newswires because those services give them the advantage of scale. Think of it like a company posting a job on a site like Indeed.com – while the recruiter may also reach out to individual candidates, posting on a job board is an easy way to increase your applicant pool. Similarly, newswires give PR pros access to journalists they've never interacted with before and may not find otherwise.
Journalists scour the newswires because they offer commodities always in demand: fresh content and story ideas. Because both PR professionals and the media benefit from these services, access can be very expensive.
News wires have certainly evolved since their beginning in the 1950s. Today, PR professionals have their choice of distribution services based on their specific goals and needs. This article[7] is a great resource to investigate different newswires and determine which will best work for your business.
Benefits of a Press Release
Now that you understand what press releases are and who uses them, let's talk about why to use a press release.
In today's age of podcasts, webinars, and social media marketing[8], press releases are considered "old-school." So why are they still around? It's simple — they just work.
One of the biggest benefits is that press releases are a cost-effective way to distribute information quickly. Your PR department or agency can prepare one statement and easily distribute it to a network of media members desperate for content.
Some popular industry sites and publications, like Forbes and the Huffington Post, are updated with articles as often as 50 times a day. It's entirely possible to post a press release on a newswire in the morning, only to have a journalist write and publish a story about it that afternoon!
When a publication writes a story about your press release, its audience becomes your audience. You may have plenty of customers, but most aren't finding your blog, YouTube videos, or podcasts. Appearing in media they do consume – whether it's Forbes or their local morning news on TV – puts you on their radar and gives you an opportunity to connect. The same goes for busy investors or other businesses who might be interested in working with you.
Also consider the increase in brand awareness. Media outlets have hundreds of thousands (or even millions) of people in their audiences. Even if only a tiny portion discovers your company through them, it can mean a significant bump in brand recognition.
And with brand recognition comes credibility. It has taken decades for media outlets to foster a sense of trust in their audiences. Any organization associated with them reaps some of the benefit.
Finally, appearing in a media outlet can make your otherwise time-sensitive press release a bit more "evergreen." If an article written about the press release focuses on the bigger picture, the impact is longer lasting than it would have been with the release alone. Additionally, being featured on a popular site means there will be hyperlinks back to your company website, making it easier for you to rank higher in search engines such as Google.
Types of Press Releases and Examples
Technically, a press release can be about anything a company considers "newsworthy."[9] That said, patterns have emerged about the most common scenarios when a press release can work well.
Here's a list of the typical types of press releases, along with some examples:
Event Press Releases and How to Write One
An event press release is used to promote a newsworthy event that a company is hosting, attending, or sponsoring.
The idea is to raise awareness among the general public. That means covering the "five W's" of journalism (who, what, when, where, and why) is extremely important. If your organization is trying to get members of the media and/or a broader audience to attend, your timing is just as important. You want to make sure to give people plenty of notice so they can plan accordingly.
What are the "five W's" of journalism?

What: What is the newsworthy event your story is covering?
Who: Who does it involve? Who are key players?
Where: Where is this story coming from? In a press release, this information will first be included in your dateline, with more details potentially included throughout your body paragraphs.
When: When is this newsworthy event going to take place, or when did it happen?
Why: Why is this important? The why in a press release is what will compel reporters and media outlets to want to dig in further.
For more information on the "five W's", consult this guide[10].
Here's an example[11] from Collibra announcing its third annual Data Citizens Conference.
Learn more on how to write a press release for an event[12].
New Hire Press Release
Companies use a new hire press release to announce important changes in leadership. Typically focused on high-level executives, this type of press release summarizes their professional accomplishments and offers biographical information. A photo of the new hire is common.
If your company just hired a well-known executive from a top competitor, for instance, that's a credibility boost – and a good sign for investors.
You can also adapt a similar press release format whenever you've promoted someone to a key executive position from within.
Here's an example[13] from Apple when Angela Ahrendts joined the company as a senior vice president.
Award Press Release
An award press release gives you the chance to publicly celebrate your success.
Industry awards and accolades are common, but, unless they're as deeply immersed in the space as you are, it's unlikely that your audience will ever hear about them. Distributing a press release clues them in — and positions you as an industry leader.
Here's a press release[14] announcing the winners for the 14th annual Stevie Awards for Women in Business.
Feature/Product Press Release
Even mega corporations like Apple, with legions of fan blogs, forums, and podcasts, continue to use press releases whenever they launch a new product or upgrade.
Why? Because these press releases offer just enough details to intrigue journalists. The resulting flurry of media coverage turns the upcoming launch into a spectacle we all get caught up in and allows them to control the narrative surrounding it.
Companies who focus on the benefits behind these new features or products (instead of dry technical specifications) motivate the media to pick up their story and run with it. Timing is critical. Because you can't sustain that high interest forever, you'll often see these shortly before a launch.
Here's the press release[15] from Samsung launching its Galaxy S8 and S8+ smartphones.
Rebranding Press Release
A rebranding press release is commonly used to supplement a broader rebranding strategy. Organizations understand that their customers have gotten used to a certain identity. They don't want them to get confused during the transition.
Whatever prompts this – a merger, acquisition, change in product direction – a rebranding press release gives companies a succinct way to explain the decision.
Rebranding press releases typically specify what exactly will change (logo, audience served, etc.), as well as attempt to excite the audience about the change.
Here's the press release[16] Propel Marketing used to rebrand as ThriveHive.
Partnership Press Release
You've been negotiating that new partnership deal for months. Releasing a press release is the perfect way to announce the news once it's finally official.
Each partner has built relationships with distinct audiences. A press release that appeals to both communities will get everyone on the same page. Additionally, with a partnership press release, both brands can leverage one another's audience to secure more exposure.
A partnership press release also gives the companies a chance to explain why the decision was made. While it can be a great sign for investors, it goes beyond strictly financial. It also gets customers excited about the new features, services, or experience they'll get access to.
This press release[17] announces the official partnership between Shopify Plus and VL OMNI.
Charitable Initiative Press Release
The modern business is no longer all about profit. Charitable initiatives are commonplace. Unfortunately, the vast majority of their audiences never finds out about the good being done.
A charitable initiative press release is the perfect opportunity to show customers that you care about more than the bottom line. Not to mention, news outlets love to feature feel-good stories that balance out the onslaught of negative coverage.
While this may seem like a great opportunity to brag about yourself, tread cautiously. The most effective press releases highlight the company's values and rally others around a good cause.
Take a look[18] at how iPartnerMedia announced that it donated a custom website to Vengeance Woodworks Company to recognize Military Appreciation Month.
Learn even more about the types of press releases[19].
Press Release Format
We've covered the situations where press releases can work effectively – as well as the benefits that make them worth the effort.
So what makes a press release stand out among the others? What is the difference between a press release that gets picked up, versus the one that gets ignored?
It all starts with an understanding of the key press release elements. Knowing what to say – and how to say it – will help you secure the attention of influential media outlets.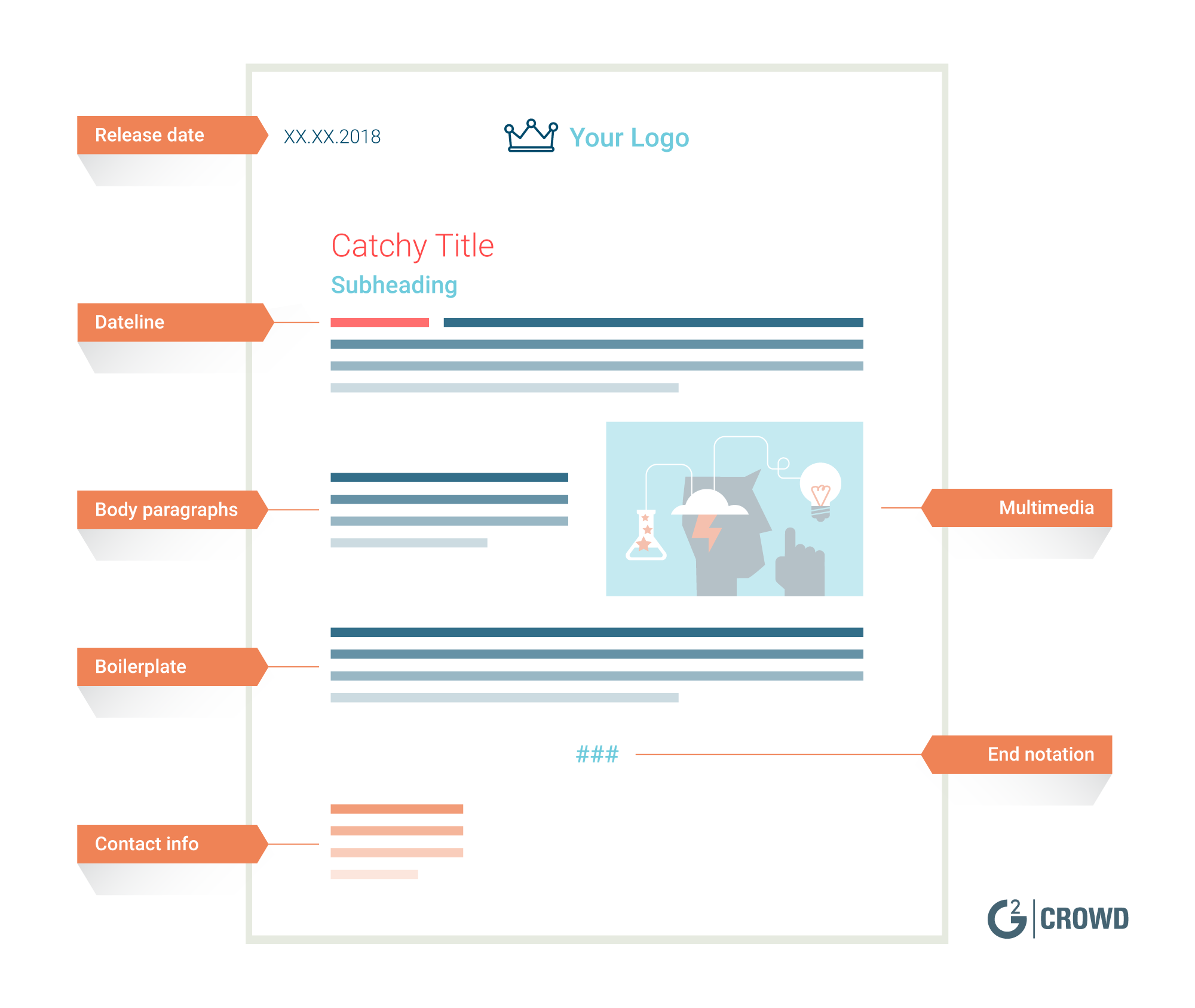 Press Release Format
Release Date
Media Embargo
Release Title
Sub-heading
Dateline
Body Paragraph
Images
Quotes
Hyperlinks
Contact Information
Conclusion

Elements of a Press Release Template 
1. Release Date
The first element (and arguably, one of the most important) of your press release is the release date. This gives media outlets your timeline — basically, when you plan to make the information public.
Press releases focus on newsworthy items, so timing is everything. Some release dates indicate "for immediate release," signaling to media outlets that you're ready to publicize the information right away.
But what about every PR professional's nightmare? Secretly planning a new product launch, only to have an eager journalist spill the beans a bit too early. To prevent this, you can adjust your release date to "embargoed until [date]." This prohibits media outlets from sharing your press release until the date you specify.
What is a media embargo?

A media embargo is issued when a company (the source of news) distributes newsworthy information to media publications before it is released to the general public. The embargo is a requirement from the company that prohibits the outlets from publishing the news until a certain date or set condition is met.
Getting your press releases prepared early, and embargoing them[20] until a later date, makes it easy to coordinate the big reveal. It also gives media outlets time to prepare in-depth coverage or seek more information instead of scrambling.
Whether to release now or embargo until later depends on the specific situation. There probably isn't good reason to delay news about your latest charity initiative. On the other hand, keeping your new CMO hire under wraps until the contract is signed makes a lot of sense.
2. Title
Think of your title like a headline in a major newspaper. The idea is to communicate the major point of your press release and intrigue the reader enough to want to find out more.
There's an art to writing great titles, mastered only after enough practice. When in doubt, brainstorm several options to choose from and poll your team to see which is the most compelling.
Short and sweet is ideal. Your title shouldn't be much longer than a tweet. Our suggestion? Aim for 170 characters or less.
Here are a few examples you can use for inspiration:
3. Subheading
Think of the subheading as your title's more interesting brother. It expresses a similar, but slightly more in-depth, message.
This isn't the time to reveal every last detail. Your goal is to add a bit more context and peak curiosity leading into the heart of the release — 350 characters should be more than enough.
A great title gets people to read the subheading, but a great subheading gets them to the body paragraphs: the bulk of your press release.
Your subheading should inform and intrigue, but it more than likely won't be the deciding factor on whether or not the media covers your release. That's what the body paragraphs are for.
4. Dateline
Next up is your dateline, which covers two of "the five W's[21]" of journalism: when and where your newsworthy event is happening.
The dateline is the starting point of your first body paragraph. Dates and locations should be written in bold, with the location spelled out in all capital letters.
The Associated Press (AP) style guide is favored among media outlets, so its rules govern here. Watch out for locations in particular. Some of the largest cities are standalone, which means you don't need to specify a state afterward. Think CHICAGO or SAN FRANCISCO. Others require a state abbreviation, like SACRAMENTO, Calif. or MEMPHIS, Tenn.
Consult this quick reference guide[22] to help you format your dateline properly.
5. Body Paragraphs
Your body paragraphs are the bulk of your press release and when you get into the details — the professional background of your new executive hire, the new features your new product offers, and more.
Remember the five Ws from journalism: who, what, when, where, and why. The best press releases include all five, and then some, with plenty of time devoted to the why. It's the why that will excite the media and increase your chances of coverage.
You can incorporate images, quotes, and hyperlinks throughout your body paragraphs to make them more compelling. Let's tackle those next.
6. Images
Images break up walls of text, add visual flair, and generally make your release a bit more interesting. You know the cliche "a picture's worth a thousand words"? While that may not be entirely true, an image allows you to elaborate on your story in a unique way.
Most organizations understand that images are powerful and decide to include them in their press releases. Unfortunately, too many forget that to be powerful, it must be relevant.
Let's be honest — nobody wants a press release with a stock image. First and foremost, can you say 'boring'? But it could even backfire if you're dealing with media outlets that have received release after release. Using a stock image almost ensures your press release will blend in with the rest.
Relevant images, however, will catch the eye and amplify the message you're conveying. For example, let's say your rebranded logo is ready, or you have a great headshot of your new executive hire. If that's the case, definitely include the visual.
Finally, if your press release will be distributed online, tagging images with proper keywords will increase your visibility. Someone Googling "new Chicago apartments," for instance, just might land on the image of your groundbreaking development next to Wrigley Field.
7. Quotes
All the elements so far have been objective. Like any great news story, press releases focus on the facts. It's who, what, when, and so on — pretty formulaic.
Quotes are the one area of your press releases where you can add some emotional appeal. They're your opportunity to put the facts into a context that gets readers excited!
There's no one better to do it than the people who have worked tirelessly preparing your latest product launch, partnership deal, or charitable initiative. Including a short statement from a key person will help convey your sense of excitement.
Here are a few examples so you can see how quotes can be used:
"907 Market Street is a high quality asset located in the heart of Market East, the fastest growing neighborhood in Philadelphia's burgeoning City Center district." – Joe Sitt[23], CEO of Thor Equities (event/general news)
"His leadership skills, combined with deep working knowledge of the communities we serve are tremendous assets to HNTB clients." – Art Hadnett[24], HNTB West Division president (new hire)
"We are pleased to partner with Carahsoft to help government agencies solve their most difficult data, compliance and cybersecurity challenges." – Eric Bednash[25], CEO and co-founder, RackTop Systems (partnership)
8. Hyperlinks
While media coverage is important, the ultimate goal of your release is to drive brand awareness. Ideally, your press release is just the starting point for a lasting relationship. By including opportunities for interaction, you're taking an extra step to ensure you won't be forgotten about.
Think of hyperlinks as a method to continue the relationship. By linking back to relevant pages on your website, your reader can start to build that relationship with a click of their mouse. It also gives media outlets easy avenues for more information and research.
Just make sure to play by the rules, and be mindful about not including more links than the newswires allow. Don't add links just to add links — point them to useful pages that are relevant to the story and give the reader supplemental information.
9. Boilerplate
Also known as an "About Us" section or "corporate summary," the boilerplate[26] is where you offer a high-level background on your company. In about 100 words or fewer, you'll include things like:
Awards, honors, and recognitions
Impressive metrics (number of customers, employees, capital raised, etc.)
Link to your website
Stock symbols (if publicly traded on an exchange)
Audience your products/services serve
Unique positioning or advantage over competitors
What your company does
Your company tagline, slogan, or catchphrase
Unlike other elements in your press release, you only have to write your boilerplate once. You'll reuse it in every release to remain consistent with your messaging. However, be sure to regularly update numbers, like revenue, employee count, etc., to remain current.
10. Contact Information
Including contact information seems like a no-brainer. That said, it can be a deal breaker if forgotten. If a reporter is interested in following up but can't find a simple way to do so, they'll move on to the next press release in the pile.
Include the following to make the most of every opportunity:
Name
Title
Phone number
Email address
Ensure you receive every message by keeping your phone number and email address current. As for who to include, it depends. Some companies have a dedicated media liaison while some prefer to change it up based on the nature of the release.
11. Ending Your Press Release
Transitioning pages within a press release – or ending them – is often confusing. It's easy to to think that a press release has ended when there's actually more information. Or someone assumes they are missing something even though the release has ended.
Over time, media outlets have developed a standardized format to avoid confusion. It's simple. If your press release will continue onto a subsequent page, end the current page with: —MORE—
However, if your press release is finished, indicate the end of the document with three hash marks, like this: ###
That was a lot of information, but it will become second nature as you write more and more.
7 Tips for Writing a Great Press Release
Understanding the basic elements and format of press releases will take you far. Journalists are more likely to reward you with media coverage when the content you submit is structured to grab their attention.
That said, even the most standard of press releases can stand out if the writer utilizes some industry best practices.
Here some proven tips to help you write the most compelling press releases possible:
1. How Long Should A Press Release Be?
Determine what you need to say, and then use the fewest amount of words possible to say it. Press releases are no-nonsense. They should be just long enough to answer who, what, when, where and why, and leave room for a little intrigue.
Ideally you'll want to keep them under two full pages. If you can fit everything on a single page, even better. Keep in mind your primary audience — an overwhelmed journalist, wading through dozens of press releases to find their story.
The sweet spot is around 300-to-500 words. Think three or four paragraphs, a few quotes, and maybe an image. Tie everything together with an attractive title, and you're golden.
2. How Should My Press Release Be Written?
The tone of your press releases should mirror the tone you would find in a news article. Stick to straightforward, objective language. Focus on the facts.
Even though the goal is to promote your company, you don't want to be, well, overly promotional. Avoid excessive punctuation or bold claims that you can't back up (think "best in class").
Always write your press releases in the third person and avoid words like "me," "we," and "us."
3. How Much Information Should My Press Release Include?
A great press release is a balancing act. It should contain enough information so that your readers have a general idea of what's going on, but not so much that they feel like they know the entire story.
A press release typically covers an exciting event, so of course you want to talk about it as much as possible. That said, err on the side of restraint. Cover your five W's, then leave it to the media to share your story.
Remember: You only need enough to give reporters the basics and get them intrigued. They can always follow up with you for more information. Reporters are writers; by leaving room for them to explore the story, you're empowering them to add their own voice and style to the final product.
4. SEO and Your Press Release
SEO stands for search engine optimization, the process used to make certain pieces of content more likely to appear at the top of the results for major search engines.
Because so many people are searching online, and the vast majority of modern press releases live on the internet, this is something to keep in mind.
By determining terms or keywords often searched in Google, you can tweak your press releases[28] to make them more likely to be found. This is potentially a great source of exposure – and it's absolutely free.
5. Steer Clear of Industry Jargon
Your reader more than likely won't be in your industry. It's easy to throw around terms and acronyms that outsiders wouldn't understand, but that doesn't mean you should.
We can't assume that the media outlets that might cover you understand industry jargon as well as you do – or even at all.
Stick to simple, straightforward language. No reason to use "formed a synergistic relationship with XYZ Company to cultivate a superior user experience" when you can say "partnered with XYZ Company to better serve their customers."
6. Don't Make It All About You
Press releases that get widely distributed all have one thing in common: They provide their reader value.
Put yourself in the position of a media outlet. Are you likely to write a story on a press release that's nothing more than self-promotion?
With practice, you'll start to weave even seemingly promotional concepts (like award wins and new hires) into a broader context. By fitting it into the bigger picture, a journalist is more likely to see how it would fit into their story.
First and foremost, consider the needs of the media outlets. The easier it is for them, the more likely it is your press release will be the subject of a news story.
7. Use Visual Content
Did you know our brains process images 60,000 times faster[29] than text? This will work to your advantage when targeting media professionals with limited time and attention spans.
Visual elements – photos, logos, infographics, and more – capture attention and make it easier to digest information. Including them can make the difference between obscurity and widespread distribution.
Writing your first press release can be quite the undertaking. Explore these additional resources to optimize your efforts.
Press Release Distribution
A killer press release is nothing without visibility. Strategic distribution – connecting with the right media professionals – will increase your exposure dramatically.
Press release distribution is all about efficiency: gaining the most coverage with the least effort.
Press release distribution is an art in itself, but it doesn't stop there. You'll also want to monitor any media coverage closely while building long-term relationships with outlets and reporters.
How to Distribute a Press Release
Once you finish writing your press release, the next step is obvious: sending it. However, with the various press release distribution strategies, how will you determine your best fit? The choice will depend on the specific content within your press release.
Some companies handle distribution on their own, while others hire PR agencies to take care of it. You can target individual journalists, send a mass email (not recommended) – or make a short list of those most likely to give you favorable coverage.
Distributing press releases to individuals or small groups is time consuming, but it can be well worth it if you've developed those relationships, or could develop them from there. When you have a professional relationship with a journalist, you can sense whether your press release is a good fit. Distribution is narrower than the thousands of journalists scouring newswires, but it's more targeted.
One of the most popular strategies is to use a distribution service to get your press release "on the wire."
What exactly does that mean?
We'll address that right now.
Press Release Distribution Services
Press release distribution services get your press releases in front of journalists, reporters, and other influential members of the media such as bloggers, thought leaders, and more. Instead of targeting specific people, you post your press release once – and it's available to everyone with access to the service.
Using these services is the easiest way for a company to distribute its press releases broadly. The sheer size of the services lets you connect with media pros you've never heard of, in locations all over the world. While the approach may not be super targeted, based on the amount of eyes on your release, the math works in your favor. Ideally, a few will bite.
Both paid and free press release distribution services are available. If you're working with a PR agency, it'll likely have access to several services and will help guide you in the right direction.
Free Press Release Distribution
Free press release distribution is always an option for budget-conscious organizations, or companies with minimal resources. Instead of hiring a PR agency or paying for access to certain newswires, you can save that money and invest it elsewhere.
Expenses are smaller – but we have to remember the opportunity costs. You'll have to keep the following question in mind: Is it worth committing the time it takes to post your release on free distribution services or reach out to receptive journalists? If the answer is yes, then this option may be fore you.
A word of caution — distributing press releases on a free service will likely not be as effective at securing publicity as your paid options. Journalists at the top media outlets have access to paid newswires. Because those are popular and well known, they have a greater reach than the free services.
You might be surprised how many free press release distribution websites are out there. Take a look at the list at the bottom of this post[30] to get you started.
Paid Press Release Distribution
Paid press release distribution is one of the most popular ways companies get the media coverage they're looking for. Newswires like PR Newswire[31] and BusinessWire[32] aren't cheap, but they offer access to broad pools of outlets and reporters.
If you're looking to target top-tier publications (think The Wall Street Journal, Forbes, etc.) you're more likely to find their journalists via paid newswires. The publications with the resources to afford them will likely take advantage of that.
The downside, of course, is the cost. Whether you're posting press releases on the newswires yourself or having a PR agency handle it, you're shelling out cash.
It isn't always necessarily the best way to go. Assess the situation on a case-by-case basis — ask yourself how important potential coverage is and how much you're willing to spend. It might be more effective to just target a few reporters you know well or those you know have covered similar news (something you can do for free).
Press release distribution software sends your press releases to various newswires and media outlets. PR professionals (both agencies and those working within companies' PR departments) use them. Some software also includes monitoring features, as well as their own newswire services.
Press Release Microsites
Once you've gone through the trouble of crafting a new press release, why not publish it to your own company website?
This step, which is free and guaranteed for publication, ensures that you'll at least get some eyes on it. It's not necessarily going to get your release picked up by the media, or even much visibility, but you've already created the press release. It only takes a few minutes to upload it to your website.
Uploading your own press releases helps interested people find the latest news about your company – all in one place. Investors and loyal customers alike will visit the page to get a quick catch up on goings-ons. A microsite is an opportunity to consolidate your company's latest news and set the tone for the messaging around it. Additionally, it creates another opportunity for online searchers to type in the right keywords and discover your company.
Some organizations create a press release microsite, which is basically a smaller site under their larger corporate web presence. Take a look at some examples below to see how they're organized:
Individual Outreach
Whether or not you're using a service or newswire, always consider sending your press release to the media directly. Once you've developed friendly professional relationships with specific reporters or publications, this can be a super effective (and free) tactic.
Just be sure to follow their preferred method to get in touch. Most people prefer email these days, but there are still some that like snail mail and fax.
Individual outreach thrives on smart targeting and the power of relationships. And don't assume that no response means they aren't interested! Make sure to follow up (once or twice, never more). These journalists or reporters are bound to be busy, and it's possible that they missed your first attempt.
Press Release Distribution Tips
Your press release could check every box, but it won't get the media coverage you're after without proper distribution. In other words: Your press release is only as good as your distribution tactics.
The following tips will help you get the most from your distribution efforts:
Know the timing and deadlines. Something is only "newsworthy" for an extremely limited time – especially with today's endless stream of articles, social media feeds, and 24-hour news networks. Starting your outreach before the news goes live is critical. Give reporters plenty of time to prepare for the big day. Most journalists need between a day and a week to turn something around. Otherwise, they'll be forced to scramble in response to old news that has already been made public, or ignore it all together.
Give an exclusive. Media outlets love to be either the first source to report news or the only one. Distributing your press releases on the newswires removes the first possibility. With so many journalists browsing those platforms, it's impossible to know who will pick it up first. But if you give one media outlet an exclusive, it allows them to be the only one discussing your topic. That will make them more likely to cover it. More importantly, this can help you build a relationship to increase future opportunities. Like they say, it's all about who you know. That said, we recommend offering an exclusive to a reporter or media outlet with whom you already have a relationship. Be sure to secure the coverage before confirming its an exclusive. If you ask nicely, they may even let you get a sneak peak at the story before it goes live.
Schedule distribution for off times.

 

Some press release services and software allow you to schedule your distribution at a certain time. Naturally, most companies do this at the top of the hour (8:00 a.m., 2:00 p.m., etc.) Why not schedule your press release at an unusual time, like 8:27 a.m.? Journalists might be more receptive if it doesn't blend in with the barrage of others.
Send a press kit. Sending a press kit along with your release takes work out for the reporter, and you can bet that anything making their lives easier will put you in their good graces. With all the background information, documents, photos, and whatever else they need at hand, it's easy for journalists to just start writing a story — no research required. To further your knowledge, check out how a press kit is different from a media kit[34]. 
What is a press kit?

A press kit (also called a "media kit") is a package of materials you prepare and send to media outlets in hopes of getting coverage. It includes your press release, as well as other common elements like fact sheets, bios of key executives, photos, past press coverage, and even DVDs or other media.
Monitoring a Press Release
You've written your press release, put it on the wire, and started to get some bites, but you're not done yet. It's time to see which media outlets cover it, what they're saying, and how the message is received.
This is called press release monitoring. Instead of jumping into other tasks and just hoping your press release works out, you're tracking the results systematically.
Why?
Careful monitoring gives you a better understanding of:
Which publications are receptive to your press releases
How the audience responds
How much activity a publication produces on your company website
Which key outlets and journalists might be willing to work with you again
In short, monitoring helps you understand what's working, what didn't quite work, and how to improve your distribution strategies going forward. If an article on Forbes drives 10 times the traffic as six articles in lesser-known publications, consider offering that same Forbes reporter an exclusive next time around.
Press Release Monitoring Services
With the abundance of software available, you don't have to devote significant amounts of time and energy monitoring media coverage manually.
Analytics platforms show you which publications are generating the most traffic back to your website. By setting up a Google alert, you'll get a notification every time your company is mentioned somewhere online.
Several types of software makes this process even easier – and more insightful. The most valuable types for tracking your press releases are media monitoring software and PR analytics software.
Media monitoring software gives you up-to-date feeds of content and activity notifications from various media channels. Your PR department can choose which media outlets to follow, then get notified whenever your company is mentioned on their websites, blogs, and social media accounts.
Most impressive about media monitoring software is how it stores links to these mentions. You can refer back to them later when you're considering who to target in the future. The software also includes reporting features, shedding light on the number and frequency of media mentions, as well as their impact on your company.
A few popular media monitoring software examples are Meltwater[36], Cision[37], and Critical Mention[38].
Public relations (PR) analytics software helps you measure the effectiveness of your PR campaigns. By gathering data into one easy-to-analyze place, the software helps companies determine which of their PR efforts have been the most effective.
Because press releases are an important part of most PR strategies, it might make sense to add this software to your arsenal. It's common to see PR analytics software used with media monitoring tools for companies who need the most features and have budget for both.
Popular PR analytics software examples include Business Wire[40], Coveragebook.com[41], and Gorkana[42].
Press Release Monitoring Tips
The insights you get from keeping a close eye on your media coverage can't be found anywhere else. Seeing how publications and audiences respond offers invaluable guidance to make your press releases even more effective.
The following tips will help you monitor your press releases consistently without feeling overwhelmed:
Compare the results of different newswires. After using a newswire and seeing some success, it's easy to stick with what you know. However, there's more out there! When your budget allows, upload the same press release to two newswires then track the results. You might be surprised when you compare.
Don't get too obsessive about monitoring. Just like your Facebook and Instagram notifications, you can fall into the trap of checking your media coverage multiple times a day. In reality, once or twice a week will do. Rest easy knowing that your software is gathering all the data you need while you focus on other public relations strategies.
Focus on the right metrics. With analytics and software tools, there's never been more data at your disposal. Hone in on the key metrics to keep things simple and avoid feeling overwhelmed. Track the number of total impressions each release gets across every media outlet, as well as the referral traffic each outlet sends back to your website.
Get qualitative. It's easy to focus so intently on the numbers that you overlook the most important part: building relationships. Patterns will emerge about specific publications and/or reporters most receptive to giving you the coverage you need. Get a strategy in place to further develop those relationships between releases.
Press release tips from PR experts 
Looking for even more tips on how to write a press release that performs? You're in luck! We've gathered some of the best press release tips from public relations experts.
Next time you're writing a press release, be sure to keep the following advice in mind. 
1. Focus on what your media contacts need
"Many businesses write press releases with the company in mind, thinking first of what information the brand wants to get across. In reality, you should be primarily focused on your media contacts' needs. Don't bury the lead: Put the information that your contacts will be most interested in at the top. Don't write in jargon—consider, instead, how your targets write and adapt your writing so there's less editing that needs to be done on their end. A reporter once told me that he appreciated that I didn't write release headlines in all caps, because an all-caps headline is something he can't easily copy from a release to his story. Think through how you can format your release to make the lives of your busy media contacts easier."
2. Write a press release like you would write a story
"I recommend writing a press release like you would a story with a lead that makes you want to read on. Because reporters are tight on time, this makes it easier for some reporters to simply use your release instead of having to rewrite it. Also, whenever possible, stay away from jargon. If you have to use industry jargon, use quotes as a way to better explain what you are saying. Finally, make it short, no one has time to read more than a page. If they are interested they will follow up."
3. Make it newsworthy and free of jargon
Put actual news in them.

Ruthlessly delete meaningless hype words like leading or solution.

Include a contact person's name and contact info. I am constantly amazed at how many releases don't contain this information. If you are lucky, journalists may have follow-up questions. 

Candace Talmadge, Business Storyteller at Talmadgewriting.com[44]
4. Cut to the chase and lose the fluff
Highlight why your news matters in the headline: I like to call it finding the "So What?" For example, Company X Partners with Company Y isn't important, it's the IMPACT of that partnership that is, so that's the answer to "So What?" that you should focus on. So, it'd become something more like "Company X Partners with Company Y to Do Z." And, of course, that Z should be something interesting or of value.
Cut to the Chase: Your first sentence should clearly express what it is you're announcing. Don't bury it behind two sentences of exposition or set up. If you need to contextualize, you can do that later.
Lose the fluff: Get rid of the hyperbole and empty expressions like ground breaking and next-generation, and don't make claims you can't support. This includes avoiding calling yourself the leader or leading something if you can't quantify how you came to that conclusion.
Make your quotes meaningful: Again, the focus should be on the impact of the news or what it means in the grand scheme of the business. That so-and-so is happy to partner with company X is completely superfluous and a total waste of words. 
5. Include images that convey your message
The organizational flow of a press release is key in capturing the media's attention.

The title and subtitle should garner a reaction while giving enough information that the reader knows where the release is headed.

Including images that convey the message of the press release is also vital to garnering the proper attention.

The text of the release should be concise, well-written, include all vital details, and most importantly easily adaptable for the media to use as their own.

The release should be based in fact, but should also include a memorable and adaptable quote as well.

Jason Goldstein, PR Manager at Immerse Agency[46]
6. Incorporate the three C's
When writing a news release, it's crucial to incorporate what I call the three C's of successful messaging. They're essential components in your quest to capture the attention of an editor or journalist:
Clarity – your release should announce your news simply, distinctly, and with no puffery or cliche bizspeak verbiage

Conciseness – your release should be short and punchy: remember, you're not trying to tell the whole story, you're trying to share just enough of the exciting stuff to get your readers hooked




Convincingness – your release should seek to include credible data points and third party quotes that validate the importance and newsworthiness of your announcement

Rafe Gomez, Co-owner at VC Inc. Marketing[47]
7. Don't bury the news
Having worked in a variety of industries and in different countries, I have learned that the basics of a good press release remain the same. The golden rule is to not bury the news. Often PRs will try and write the release like an article, presenting facts that lead up to the main event. You need to lead with the most interesting piece, otherwise it will unlikely be read.
When appropriate, always include quotes from a relevant spokesperson. Commentary will provide context around the news you are releasing; why it is important and what it means for the audience. These can lead to an interview or be picked up verbatim, helping establish or maintain a thought leader platform for your business, in addition to awareness.
Now It's Time To Write Your First Press Release
Press releases might be an "old school" publicity strategy, but when they're used well, they're an invaluable tool to reach wider audiences and boost your credibility.
It can feel a bit overwhelming at times if you're just getting started. All you have to do: work your way through this page one step at a time.
Start with a newsworthy event. Prepare a compelling release by including all the key elements and arranging them in the proper format. Distribute it to media outlets strategically. Then track the results so you can make your strategies even more effective with time.
We've covered a lot of information — use this tool as a reference, develop your own best practices, and get ready to see results. 
Source URL: Read More
The public content above was dynamically discovered – by graded relevancy to this site's keyword domain name. Such discovery was by systematic attempts to filter for "Creative Commons" re-use licensing and/or by Press Release distributions. "Source URL" states the content's owner and/or publisher. When possible, this site references the content above to generate its value-add, the dynamic sentimental analysis below, which allows us to research global sentiments across a multitude of topics related to this site's specific keyword domain name. Additionally, when possible, this site references the content above to provide on-demand (multilingual) translations and/or to power its "Read Article to Me" feature, which reads the content aloud to visitors. Where applicable, this site also auto-generates a "References" section, which appends the content above by listing all mentioned links. Views expressed in the content above are solely those of the author(s). We do not endorse, offer to sell, promote, recommend, or, otherwise, make any statement about the content above. We reference the content above for your "reading" entertainment purposes only. Review "DMCA & Terms", at the bottom of this site, for terms of your access and use as well as for applicable DMCA take-down request.
Acquire this Domain
You can acquire this site's domain name! We have nurtured its online marketing value by systematically curating this site by the domain's relevant keywords. Explore our content network – you can advertise on each or rent vs. buy the domain. Buy@TLDtraders.com | Skype: TLDtraders | +1 (475) BUY-NAME (289 – 6263). Thousands search by this site's exact keyword domain name! Most are sent here because search engines often love the keyword. This domain can be your 24/7 lead generator! If you own it, you could capture a large amount of online traffic for your niche. Stop wasting money on ads. Instead, buy this domain to gain a long-term marketing asset. If you can't afford to buy then you can rent the domain.
About Us
We are Internet Investors, Developers, and Franchisers – operating a content network of several thousand sites while federating 100+ eCommerce and SaaS startups. With our proprietary "inverted incubation" model, we leverage a portfolio of $100M in valued domains to impact online trends, traffic, and transactions. We use robotic process automation, machine learning, and other proprietary approaches to power our content network. Contact us to learn how we can help you with your online marketing and/or site maintenance.